Brand Analytics
Brand monitoring and analysis
in social and mass media
Request demo
Brand Analytics will help handle the business tasks of your company's key divisions
PR
Control reputational risks and improve PR effectiveness
Marketing
Create sought-after products, and develop your communication strategy
Customer service
Improve customer-service quality, and strengthen customer loyalty
Sources
Brand Analytics ensures collecting the data of best integrity, from all sources:
Social networking sites: VK.com, OK.ru, Instagram*, Facebook*, YouTube, TikTok, Twitter, etc.
Blogs, forums, review websites, mobile app stores
Public channels and Telegram chats
Online mass media
Websites of government agencies and market-forming companies and organizations.
The collection and analysis of social media and mass media is carried out in 12 countries: Russia, Azerbaijan, Armenia, Belarus, Georgia, Kazakhstan, Kyrgyzstan, Moldova, Tajikistan, Turkmenistan, Uzbekistan, Ukraine. The system is optimized for the languages spoken by the residents of these countries.
Search by text, image, video, check-in
Our monitoring spans all types of messages and data: message texts, recognized picture texts, video transcripts, check-ins, stories.
Searching by text in images found in social media is a unique Brand Analytics solution, which has no rival on the market. The technology opens a major layer of previously inaccessible content for analysis: spreads of fake news, in-house information leaks, advertising, memes, as well as wealth of information on customer experience available from smartphone photos.
The search by geo-tags and check-ins makes it possible to receive feedback from consumers linked to geographically-distributed business structures, which in turn makes it possible to track the quality of supplied goods and services in each branch of the chain.
Data analysis
Collected messages are automatically filled with metadata:
Message language;
Sentiment with regard to monitoring object;
Size of potential message audience;
Geography: country, region, city, coordinate;
Author's age and gender;
Engagement: number of comments, likes and message reposts;
Presence and level of aggression;
and others.
Automated analytics classifies messages by topic, while mass media accounts and spambot messages are highlighted from among the authors. In order to assess marketing and PR effectiveness, the system calculates respective benchmarks.
Analytic reports and visualization
The system builds reports containing graphs and tables and provides analytical tools automatically:
Message feed with respect to the object monitored.
Detailed reports with graphs and table data: by source, author, community, geography, geolocation, tag, popular words, persons, companies, most frequently quoted publications.
Message filtration by any set of parameters, with the calculation of integral indices, statistics, possibility to generate automated reports and subscribe to their updates.
Message selection over any time period since the start of monitoring.
Message sorting by engagement, audience size, number of comments, likes, reposts, reviews, duplicates.
Full-text search by the collected messages.
Comparison of monitored objects by their key metrics, from demographic and geographic perspective, as well as any snapshots of media-space.
Message categorization
Brand Analytics is capable to mark (tag) messages automatically by their assigned categories described by key words; manual tagging is possible too. For example, categories can be assigned by certain company products, product features, etc.
Message feed on each category is displayed, containing its integral indices and detailed statistics; such a report is exportable.
Conceptual tag grouping ensures multilevel analysis, simplifies and accelerates preparing regular analytic reports.
HR brand analytics
Brand Analytics has developed a unique solution for HR brand monitoring and analytics in social media, which makes it possible to find out, in a single click, what company employees are writing about the company on social networking sites.
Not only does the HR analytics discover the content that is a problem for the company reputation and security, but helps it form a competitive employer's offer and find internal company ambassadors.
HR tag setting takes one minute, whereupon one may immediately receive data in the format of notice, automated report, or get it directly from the system.
Teamwork tools
The system provides for possibilities of multiuser access while maintaining information security measures:
Multiuser management of a single account is possible.
User access levels are differentiated by both functionality, collected data and reporting.
Joint work with gathered information is possible: tasks to system users, as well as completion statuses are individually assigned.
User action logging enables the manager to assess performance of the team.
Data export
For data export purposes the system automatically generates presentation-style reports in Word, PDF format, as well as data uploads in Excel, CSV, JSON for any time period since the start of monitoring, using any set of filters. The content of information in reports is set up according to your business tasks.
The system enables subscribing to automated reports, plus receiving messages as soon as they become available, or following a predetermined scenario.
Alerts
The Brand Analytics alert system notifies you of any significant changes in the brand information space automatically (increased negativity, messages from opinion leader, etc.), thereby allowing you to take the necessary measures at the proper time.
The conditions of changes tracked are set by the user. Alerts are sent to an email address, a group or Telegram as a private message in.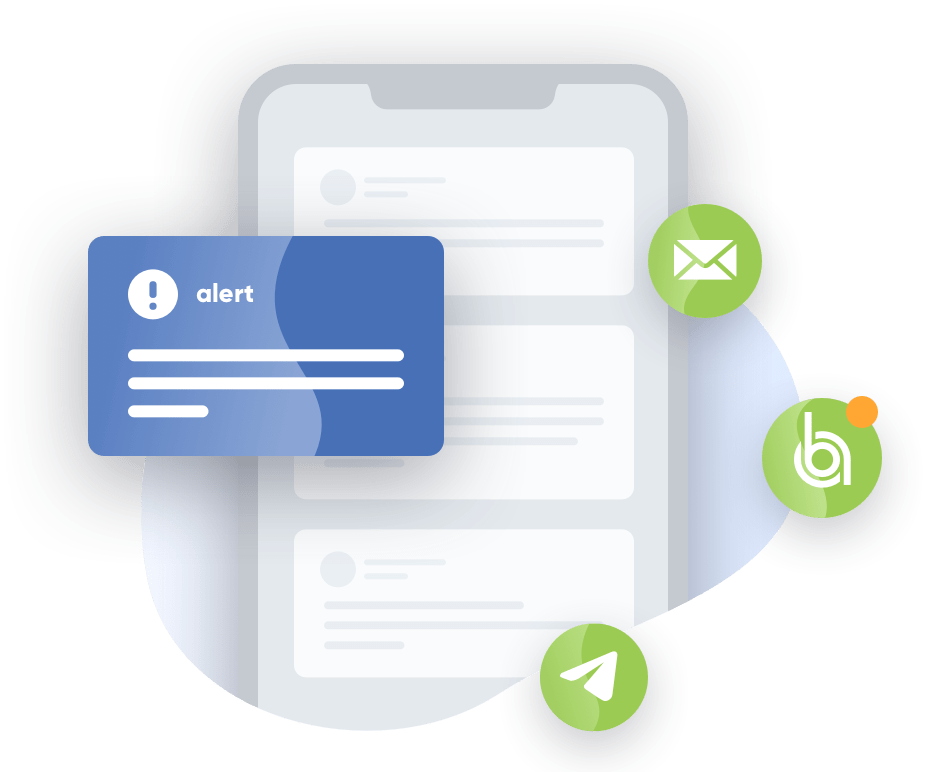 Integrations
Integrations make it possible to send, targeted messages with the corresponding metadata from Brand Analytics to other systems that your company uses to support users, whether automatically and/or manually Thus, your corporate HelpDesk system will operate in "single window" mode, including the social media channel.
Currently, the possibility of integrating with the most commonly used HelpDesk systems has been implemented, such as Zendesk, Usedesk and the respective Salesforce solution, as well as Telegram.
Try Brand Analytics in action!
Fill in the form to test the system.
How will it go?
our consultant will contact you to clarify your business objectives
will help to set up and tune the system to suit your goals and objectives
will conduct a system demo
will be in touch for 7 days to provide help during the test period
Get your free demo
Get your free demo